<![endif]-->
October 2020
| | |
| --- | --- |
| | ATMC Celebrates National Co-op Month |
| | FOCUS Fiber Optics Available to Many in Boiling Spring Lakes |
| | Hawes Retires After 30 Years of Service |
| | |
| --- | --- |
| | Strengthen Your Connection with ATMC's Premium Wi-Fi |
| | ATMC Accepting Scholarship Applications |
ATMC Celebrates National Co-op Month
October is National Co-op Month! As the area's only telecommunications cooperative, ATMC has served the people of Brunswick County for 65 years. A cooperative is a business that is run by its members and keeps the members' interests at the heart of its decision making. Our cooperative was built by local people who wanted to better serve our community by providing access to communications technology. Today, ATMC is still focused on connecting our communities and we continue to remain dedicated to the same cooperative principles on which we were founded.
For more information about the benefits of doing business with a cooperative, visit us online at atmc.com.
FOCUS Fiber Optics Available to Many in Boiling Spring Lakes
ATMC's FOCUS fiber optic network is now available to many residents and businesses located in Boiling Spring Lakes, featuring high speed internet with speeds of up to one Gigabit. The $9 million dollar project started in late 2019 and is slated to be complete in 2021. Upon completion it will bring high speed Internet to more than 3,000 residents.
To stay up to date on this project or to find out if FOCUS fiber optic service is available at your address, visit iwantATMC.com. Residents and businesses in the upgraded areas can sign up for ATMC service by calling, 910-755-4311.
Hawes Retires After 30 Years of Service
In September, ATMC Board President Douglas Hawes announced his retirement from the ATMC Board of Directors after 30 years of service. Appointed to the Board in 1990, Doug served as Vice President from 2012 to 2014 before stepping into the President's position. Always mindful of his responsibility to the members he represented, and a proponent for growth, Doug played a vital role in transforming ATMC from a telephone cooperative into the dynamic full-service company that it is today. Always positive, always encouraging, and always a gentleman, ATMC is grateful for his unwavering leadership. We wish him the best in his retirement.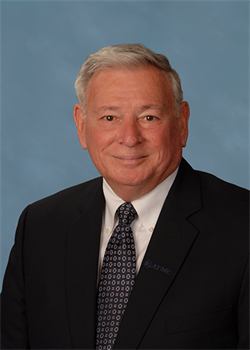 Doug Hawes
Strengthen Your Connection with ATMC's Premium Wi-Fi
Looking for a better way to connect multiple devices at the same time, or are there rooms in your home where it is difficult to get a good Wi-Fi connection? If so, ATMC has the solution! For only $7.95 a month, Premium Wi-Fi uses a reliable mesh network to eliminate dead zones and provide a constant Internet connection to all of your connected devices.
Call 910-754-4311 to learn how you can improve your Internet experience with Premium Wi-Fi.
Wi-Fi devices sold separately and professional installation is required. Price shown includes Standard Wi-Fi. Premium Wi-Fi does not guarantee broadband speeds or Wi-Fi coverage. Self-installs not allowed. Monitoring and replacement of damaged or non-working Premium Wi-Fi devices resulting from normal wear and tear. Device installation and certain taxes and fees may apply. Available for residential customers only. Not available with customer owned router or in all areas. See store for details.
ATMC Accepting Scholarship Applications
ATMC will be offering $2,000 scholarships this year to five deserving seniors in our service territories. Applicants and/or their legal guardians must be customers of ATMC or one of its subsidiaries for Internet, telephone, cable TV or ATMC Security. Scholarships will be awarded on the basis of academics, school-sponsored activities, community involvement and interview skills.
For more information regarding the ATMC scholarship program, contact the guidance counselor at your local high school, download an application at atmc.com or call 910-755-1677. Applications should be complete to ensure eligibility and must be received at an ATMC retail location by 5:00 p.m. on December 11th, 2020.
| | |
| --- | --- |
| Movie Title | Available |
| Happy Halloween, Scooby-Doo! | 10/6 |
| Chasing The Present | 10/6 |
| Measure for Measure | 10/6 |
| The Phenomenon | 10/20 |
October Pay-Per-View Events
Pay-Per-View events are available on channels 350-353. Check the on-screen guide for listings. Click here for more information.
10/4
10/24
10/25
ATMC | 640 Whiteville Road | Shallotte | NC | 28470 | US