<![endif]-->
April 2021
| | |
| --- | --- |
| | Ten Digit Dialing Starts This Month |
| | ATMC Voted 1st in Best of Brunswick Awards |
| | Call Before You Dig |
| | |
| --- | --- |
| | Upgrade to a New Phone This Spring |
| | Start Saving with ATMC Smart Home Features |
| | Check out the Best Deals on Streaming Services |
Ten-Digit Dialing Starts This Month
The Federal Communications Commission (FCC) has adopted "988" as a new three-digit number to be used nationwide to reach the National Suicide Prevention and Mental Health Crisis Lifeline. In order for 988 to work successfully in the 910 area code, mandatory 10-digit local dialing must first be implemented for all landline subscribers.
You should begin dialing 10-digits on April 24th, but calls will still go through if you forget and dial just seven digits. In addition to changing the way you dial, you should also reprogram any automatic dialing equipment such as phone systems, speed dials, fax machines, or security and medical equipment to complete calls dialing 10-digits. Rest assured, the price of your call will not change and what is currently a local call for you will remain a local call.
While we understand that this can cause some inconveniences for the dialer, the addition of this national three-digit number will make it far easier for an individual to reach out and receive immediate assistance during a time of a mental health crisis. To learn more about 10-digit dialing, visit atmc.com/10digitdialing.
ATMC Voted 1st in Best of Brunswick Awards
Thank you for your vote in the Brunswick Beacon's Best of Brunswick Reader's Choice Awards which once again recognized ATMC as having the best customer service in Brunswick County.
"We are grateful to have received this honor," commented Keith Holden, ATMC CEO. "Our number one priority is how we serve our customers and this award is a testament to our employees' incredible efforts."
This year marks the 13th time since 2008 that ATMC has been named for this award.

April is National Safe Digging month. If you are planning a spring home improvement project, make sure to call before you dig. Simple tasks like installing a mailbox, planting shrubbery, or building a deck can result in damage to gas, electric, communications or water and sewer lines, which can lead to service disruptions. If you accidentally cut a utility line, you could be responsible for covering the cost of repairs.
By calling 811 before you dig, you'll be connected to a local one call notification center that will share your information with local utility companies like ATMC. Locators will then visit the dig site to mark the approximate location of underground utility lines. Once a site has been accurately marked, you'll be able to safely begin digging.

Upgrade to a New Phone this Spring
Spring is officially here so it's out with the old and in with the new! Trade-in your old wireless device and we'll give you credit towards the purchase of a brand new one.* With flowers in bloom and spring events happening, we want to make sure you have the latest and greatest device to document all the spring fun. Pop in to one of our four locations to learn more about our trade-in offers or ask our bring your own device savings!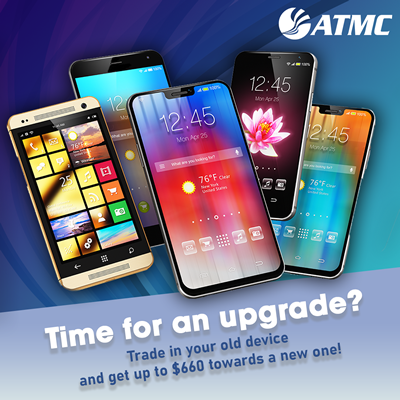 Device credit not available with all devices and plans. Devices must be appraised at time of trade-in and must meet all qualifying conditions in order to be eligible for a credit. Device credit mentioned is when combined with promotional credit. Partial credits will not be given. Tablets & wearables are not eligible for trade-in. Customers can trade in up to two devices toward new purchase and may be combined with device credit offer. Deposit may be required for service. Requires 18 months of uninterrupted service. Early cancellation fees apply. Credit & certain other restrictions may apply. See store for details.

Start Saving with ATMC Smart Home Features
There are many benefits to having a security system from ATMC, including affordability. Not only can you save money by bundling a security plan with your other ATMC services, but you can also take advantage of other savings that come with having a security system, like reducing your homeowner's insurance and protecting your most valuable possessions.
Adding smart home features also helps save money. A smart thermostat can reduce your power bill by allowing you to reduce energy waste by being able to remotely adjust your thermostat settings. And, the energy monitoring tool shows when and where you're consuming the most so you can make changes based on your family's needs.
Start saving today by visiting atmcsecurity.com or call 910-755-8077 for a free on-site evaluation.
Certain restrictions apply, see store for details.
Check out the best deals on streaming services
The new streaming marketplace on ATMC's website is your one stop to get information on a multitude of streaming services. Get the help you need to find the streaming app that best suites what you want to watch on TV. Search by name, genre, and device or you can filter by free or paid apps. Get detailed summaries for each streaming option and compare prices and features as well as reviews and ratings. Learn more about your streaming options by visiting atmc.com/cutthecord.
Streaming Marketplace is owned and operated by MyBundle.TV. ATMC does not rate, control, support or provide billing for streaming services included in the Marketplace. Questions regarding any service or provider included should be directed to MyBundle.TV or the streaming service provider.
| | |
| --- | --- |
| Movie Title | Available |
| Chaos Walking | 4/2 |
| Raya and the Last Dragon | 4/2 |
| Tom & Jerry | 4/16 |
| Voyagers | 4/30 |
| | |
| --- | --- |
| Event | Date |
| WrestleMania 37 | 4/10 & 4/11 |
| IMPACT: Rebellion 2021 | 4/24 |
ATMC | 640 Whiteville Road | Shallotte | NC | 28470 | US